Something about food at Christmas in my family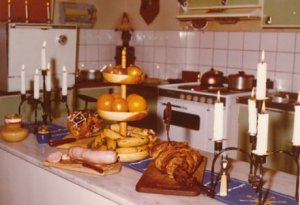 Our family Christmas coffee table can hold these kinds of buns, cakes and cookies:
Saffron buns, soft ginger cake, ginger cookies in special Christmas shapes like hearts, stars, goats, pigs, men and women, and lots of other shapes.
Then you may find goda snitt, bondkakor and julskorpor and perhaps another kind of cookie.

Our Christmas smorgasbord does not hold so many kinds as you find in the restaurants. We have chosen to serve these traditional dishes:
Pickled herring, beet-root salad, liver paste, brawn of pig or chicken, rolled lamb, smoked leg of lamb, Christmas Ham with mustard, prunes and apple sauce.
You would find three kinds of bread: thin unleavened bread, wort loaf and Christmas buns, and at side of the bread there is butter, Edamer cheese and soft wheycheese.
On the stove you find hot potatoes and hot red cabbage to go with the ham.
For drink we have Christmas beer and those who like that can have some spiced vodka with the herring.
If you read some other Internet pages about Swedish Christmas Smorgasbord, you see that there can be a lot more.
As hot dishes for Christmas Eve dinner we have lutfisk and Christmas porrige. Nowadays we often have that dinner at Christmas day as we have had enough to eat when we enjoy the Christmas Smorgasbord.
"Lutfisk" literally translated means "lye-fish" and actually is foaked in lye to make it soft and palatable. The rice porridge is eaten with sugar and cinnamon and whoever finds the whole almond in their porridge is expected to be married within the year.
Then there always is the Christmas sweetie table - standing in the parlour ready for all accedental guests and for the family members to enjoy after the meals. The table is laid with a red table cloth. As a decoration there are big decorated ginger cookies laid on the surface. Those should not be eaten until Canutus Day! In bowls you find fruits, nuts, dates, sweets. Christmas is the time of the year when lots of old recipes of home-made sweets are actualizised again. And in the middle of that table the pan for "glögg" with special mugs, and bowls with raisins and almonds aside.

Here you will find recipes for some of these dishes
There are more recipes in my page Swedish Easter Smorgasbord