BILDER TILL DAGBOK KANARIEÖARNA MARS 2006
La Palma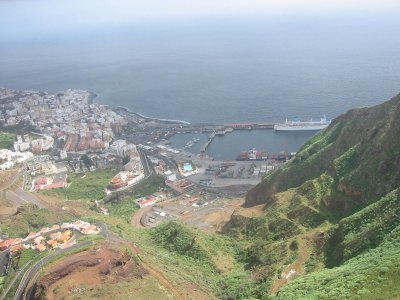 Denna översikt över Santa Cruz de la Palma är tagen från en krater 850 m ö.h. Du ser vår båt inne i hamnen.

This view over Santa Cruz de la Palma is seen from a crater 850 metres above sealevel. Our ship is seen in the harbour.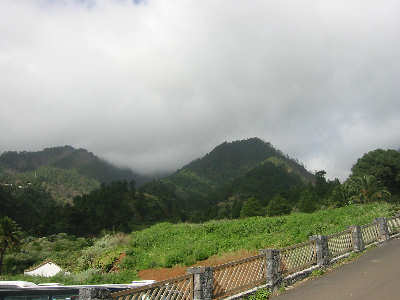 Bergen från östsidan, de höga bergen dolda i molnen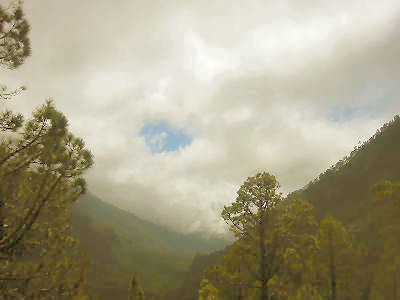 Nu på västsidan. Detta är den stora förkastningssprickan Caldera de Taburiente som är 1500 meter djup. Denna och följande bilder sedda från den parkeringsplats Mirador de la Cumbre där bilvägen slutar. Härifrån finns vandringsstigar för den som vill högre upp.

Now we are on the western side of the mountains. The great erosion crater Caldera de Taburiente is 30 sq km and 1500 metres deep. This picture and those following are taken from the parking place Mirador de la Cumbre where the the road ends. From here there are walking paths for those who want to come higher.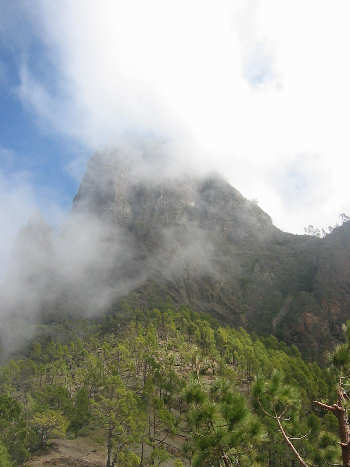 Uppe bland molnen || We are in the clouds.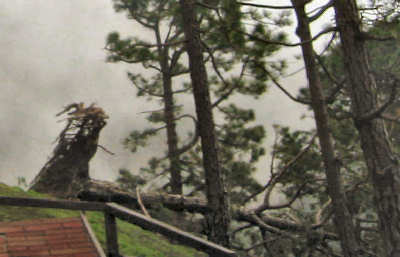 Rotvälta efter stormfälld tall. Den tropiska stormen Delta härjade öarna i november 2005. Det var första gången som de stora tallskogarna på öarna drabbades så hårt.

Root log - a fallen canary pine. The tropical storm Delta hit very hard on the Canary Islands November 2005. For the first time the pine forests in the islands were damaged by a storm.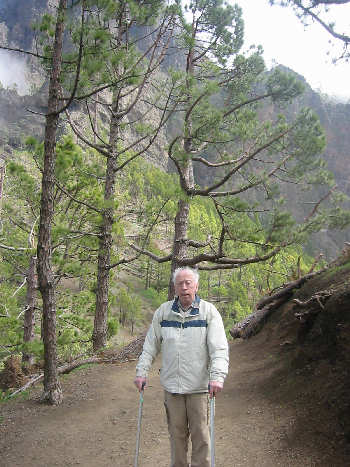 Roland tog några steg på stigen som leder högre upp.

Roland took a few steps on the walking path.
Svenska dagboken English diary
---
Photo by © Ingegerd 2006