BILDER TILL DAGBOK KANARIEÖARNA MARS 2006
TENERIFFA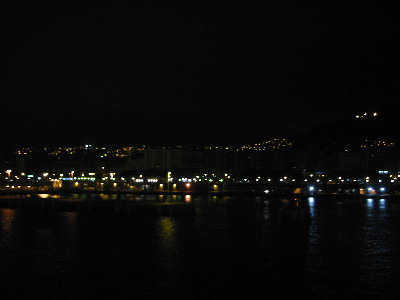 Vi kom till Santa Cruz på Teneriffa tidigt på morgonen

We arrived at Santa Cruz de Teneriffa early in the morning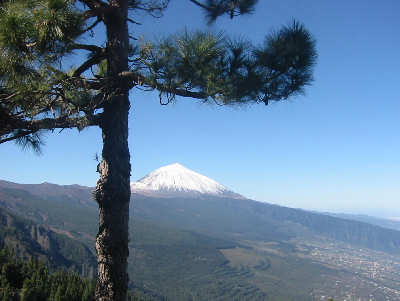 Den fortfarande snötäckta norrsidan av vulkanen Teide sedd från en rastplats på 1500 m ö.h. Vi är på väg till nationalparken som innefattar vulkanen och lavamarkerna. Den heter Parque Nacional de las Cañadas del Teide.

The volcano Teide was still partly covered by snow on the northern side. Here seen from a resting point on the road to Parque Nacional de las Cañadas del Teide.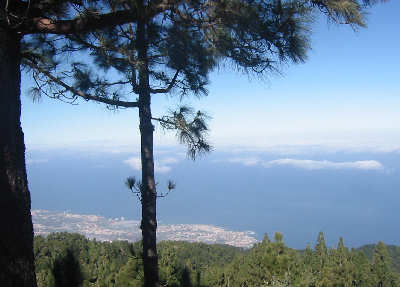 Här ser vi från samma rastplats ner över del blånande havet samt Santa Cruz och andra städer på Teneriffa.

From the same place we have a view over the sea and Santa Cruz and some other towns in Tenerife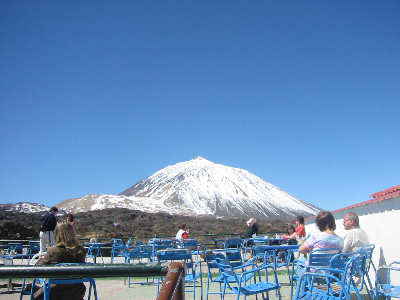 En servering i El Portillo vid infarten till nationalparken Los Cañados. Teide (höjd 3718 m ö.h.) dominerar utsikten. Vi är ungefär 2000 m.ö.h.

A coffee place in El Portillo by the entrance to Los Cañados. The volcano Teide 3718 m ö.h. dominates the view.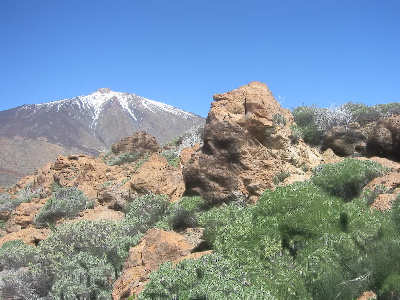 Vid 2330 m ö.h. bland lavafälten finns en hel del växter som lär blomma en kort tid i slutet av maj månad.

At 2330 metres above sea level in the lava fields there is some vegetation. They say that it is very nice in May - June when they burst into flowers for a short time.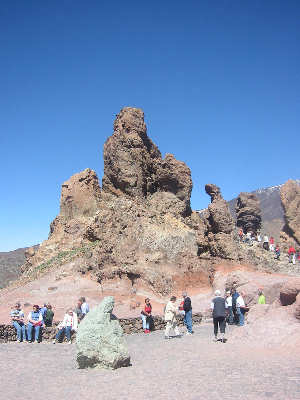 Dessa basaltklippor finns där vår busstur slutade. Där ligger det bl.a. en vetenskaplig forskningsstation

These cliffs of basalt are found at the end of the tour. There is a sciense research place located here.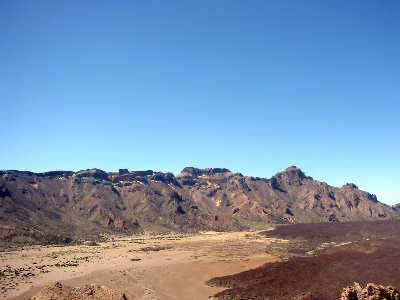 Vi var hela tiden inom randbergen - kratern. Färgerna på lavamarkerna skiftade i alla upptänkliga nyanser av brunt.

In the national park we were inside the crater all the time. The colours on the lava fields shifted among all thinkable nuances of brown

Svenska dagboken English diary
---
Photo by © Ingegerd 2006