Hebridean and Scotland Pictures
May 2003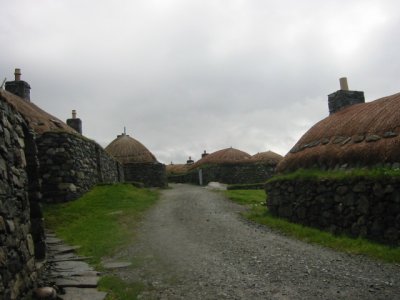 Gearrannan är en by som kunnat restaureras i sin helhet i det gamla skicket. Byn var bebodd ända till 1974!
Några av husen är nu inredda som vandrarhem, två fungerar som museum

The old village of Gearrannan is restored in it's original state as it was when it was habitated
Some of the houses are used as Youth Hostel, and two are museum.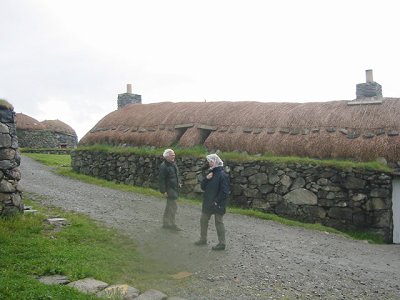 Jag gick genom byn och kände vinden och regnet och den friska luften.
Och överallt hördes trastarnas sång.

I walked through the village and felt the fresh air and the rain,
och everywhere we heard singing of thrushes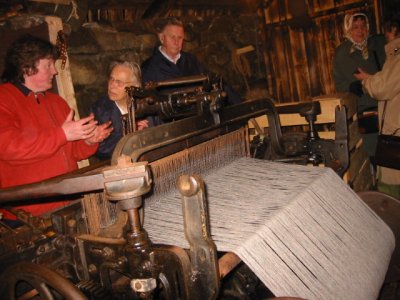 I ett av husen finns en tweed-vävstol och vi fick en demonstration av hur den fungerar

In one of the houses we had a demonstration of the weaving of Harris tweed.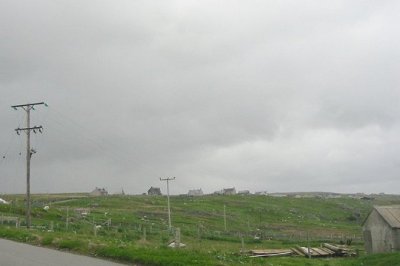 På vägen till och från den restaurerade byn passerade vi denna by.
Bredvid varje hus finns en ruin av ett gammalt hus.
Byarna är långa, ligger i rad utmed vägarna.

On the way which went to the restored village we passed another village.
At the side of every house is the ruin of an old house.
The villages are situated along the roads.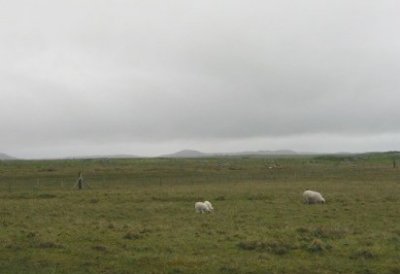 På strandängarna betade fåren och lärkornas drillar hördes i skyn.

In the fields near the sea there were grazing sheep. And the larks thrilled in the sky.
---
© Ingegerd