After the crowning she can be driven through the town in a parade including her maids, all dressed in white. Sometimes the company includes "Star Boys" who are dressed in white and wearing top hats.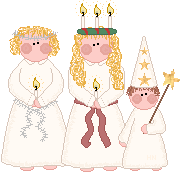 In families you often celebrate like this: Some of the family members get up early, make coffee and lay a tray with cups, Lucia buns ("lussekatter") and Lucia Hearts (Swedish Ginger Cookies). Then they go the house around singing Lucia songs and offering the early morning coffee to all people.
There are many special songs for this occasion. The most well known is with the melody of the Italian folk song "Sul mare luccica l'astro d'argento". The Swedish texts have at least three different versions.
Lucia is celebrated on television, and at schools, nurseries, hospitals, at work, everywhere you meet those Lucia parades.

In our family we have a special tradition. My godmother, my mother's sister Britta, wrote a little poem, a Lucia song, when she was a girl. Now we always sing that song when we celebrate Lucia in the family.
My grandmother told me that once in the twenties the family at Lucia morning was awakened by Britta, coming with coffee and singing that song for them. It is sung to the melody of a Finnish traditional song, Minä seisoin korkealla vuorella. And since that time we in our family have the tradition to sing that song at Lucia morning celebration.

But the traditions of old are much different.
There are lots of old legends, superstition, folklore and ideas from other countries. In the western parts of our country the legends about the "Lusse" were very common. The rural people had many customs to be made during the night of "Lusse" which in the time of the Gregorian Calendar was the winter solstice, the longest night of the year. The light carried by a maiden was meant to frighten the devils and other evil beings who were around at that night.
The way we celebrate Lucia nowadays is just Swedish. No other countries celebrate like we do in Sweden.